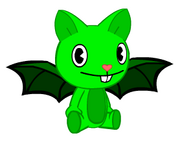 Trippy is a bright green vampire bat. Trippy is a practically insane and idiotic character. Beacuse of this, he's best friends with Lumpy.
He is mostly killed or injured in his eye or his brain, and rarely survives.
Trippy is somewhat idiotic and completely clueless when something bad comes to others.
Trippy's episodes
Edit
Starring Roles
Edit
What Up My Peeps (1969)
Featuring Roles
Edit
TBA
Appearances
Edit
TBA
What Up My Peeps: Knifed through the head by Boris.
Ad blocker interference detected!
Wikia is a free-to-use site that makes money from advertising. We have a modified experience for viewers using ad blockers

Wikia is not accessible if you've made further modifications. Remove the custom ad blocker rule(s) and the page will load as expected.