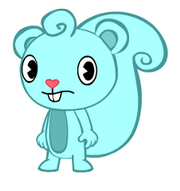 Puffy is a fan-made character of Happy tree Friends.
Puffy is a cyan squirrel with curled hair on top his head. He is very sensitive and cries easily. By many characters, he is often mistaken for being a girl because of his girly actions and behaviour, and possibly his look. He usually hangs out with girl characters like Giggles and Petunia.
Puffy is very passionate of others. Puffy is very sensitive, and is a very common target of Pierce. He seems to be very generous, though he assembled a deadly weapon and killed Pierce.
Starring Roles
Edit
TBA
Featuring Roles
Edit
Appearances
Edit
TBA
In Simpsons episodes, he takes place of Wendell.
Ad blocker interference detected!
Wikia is a free-to-use site that makes money from advertising. We have a modified experience for viewers using ad blockers

Wikia is not accessible if you've made further modifications. Remove the custom ad blocker rule(s) and the page will load as expected.