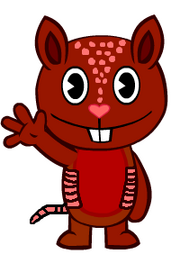 Peppery
is a dark red armadillo. He is a lesser known fan character, and has his own account on the HTF social website. Before Peppery started using Zolrac's HTF Digiter, Peppery was presumably made with pictures of
Mime
and
Giggles
, which were recolored and edited. He now looks much more realistic. Peppery is
Shivers'
boyfriend.
Peppery is an intelligent character, but does not know what to do to save a life. When it comes down to saving a life, he is similar to Lumpy in that regard. Despite this, he is very kind, and attempts to save others when possible. He is willing to help others when help is needed.
Ad blocker interference detected!
Wikia is a free-to-use site that makes money from advertising. We have a modified experience for viewers using ad blockers

Wikia is not accessible if you've made further modifications. Remove the custom ad blocker rule(s) and the page will load as expected.