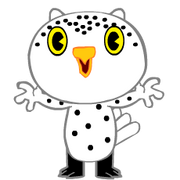 Otus is a snowy owl. He loves to fly, and he works for the H.T.T.P.D. He normally flies on patrol. He is the deputy commissioner, and he loves being with his best friend Savaughn. He doesn't seem to like Ale. Otus loves his job. He is mostly seen traveling with Savaughn in some episodes to Savaughn's hometowns as well as his old hometowns.
Starring Roles
Edit
TBA
Featuring Roles
Edit
Appearances
Edit
TBA
In Simpsons episodes, he takes place of Eddie.
Ad blocker interference detected!
Wikia is a free-to-use site that makes money from advertising. We have a modified experience for viewers using ad blockers

Wikia is not accessible if you've made further modifications. Remove the custom ad blocker rule(s) and the page will load as expected.