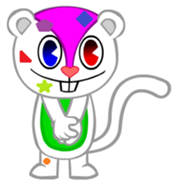 Kaleidoscope is a lemming that loves kaleidoscopes, so he took one apart and stuck some shapes to his body, similar to
Nutty
 sticking candy to his body. Kaleidoscope has severe acrophobia. He also has a condition that makes him forget things in times of extreme stress. His deaths often involve either electricity or his crotch, or both.
Kaleidescope has a rainbow colored body, that often changes colors. Most of his body is white and does not change colors. His tail usually sticks in the air, but he is able to freely control it. He has pieces of the inside of a kaleidescope stuck on his body. His eyes often change color, and he has poor eyesight. He has stubby legs and short arms, and rarely ever frowns.
Ad blocker interference detected!
Wikia is a free-to-use site that makes money from advertising. We have a modified experience for viewers using ad blockers

Wikia is not accessible if you've made further modifications. Remove the custom ad blocker rule(s) and the page will load as expected.