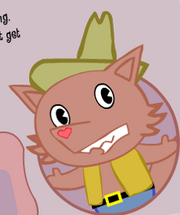 Howdy is a brownish-red coyote. He is a cowboy who lives in the American Southwest. He wears a cowboy hat and boots, and talks with a western accent. His favorite hobbies include horseback riding, listening to country/western music, barbecues, camping, and mountain climbing. He also likes drinking beer, sometimes getting himself drunk.
Howdy can be described as an adventurous, fiesty, and daring character. He usually cheers a big "Yee-haw!" when he succeeds at or gets excited about something.
Howdy's Episodes
Edit
Mountain Of Trouble (1969)
We Are The Camp-ions (1973)
Wild West Side (1975)
I've Gotta Bandit To You (1977, with Lifty and Shifty)
Are Ya Thirsty Pardner (1979, with Thirsty)
Sting Around The Campfire (1981)
Wherefore Art Thou Rodeo (1983, with Guddles and Perry)
Sweet Tooth Alabama (1985, with Nutty)
Cactus Makes Perfect (1989, with Trippy)
Country Rock (1992, with Pierce and Lumpy)
Back On The Addle (1994)
Wild West Madness (1995, with Zekey)
A Mile In My Horseshoes (1998, with Lucky and Leif)
Mine Your Own Business (2000)
The Good And The Badge (2002)
Spaghetti Western (2005, with Lifty and Shifty)
You Stoopid American (2006, with Pierre)
Corn On The Rob (2014, with Filthy)
Annual Appearances
Edit
1970
1971
1973
1975
1978
1979
1985
1986
1988
1994
1995
1996
1997
1998
1999
2003
2009
Ad blocker interference detected!
Wikia is a free-to-use site that makes money from advertising. We have a modified experience for viewers using ad blockers

Wikia is not accessible if you've made further modifications. Remove the custom ad blocker rule(s) and the page will load as expected.