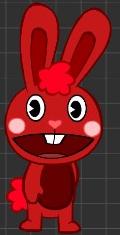 Guddles is a light red rabbit with pink cheeks who likes skatebording, drinking soda, playing tennis, and doing tricks. Guddles' personality is somewhat mixed. On one hand he can sometimes be dangerously mischievous and fairly self-centered. Both of these characteristics have lead to both his death and other characters' deaths. On the other hand, he is most of the time friendly and caring, making his personality more complex than the others.
Starring Roles
Edit
TBA
Featuring Roles
Edit
Appearances
Edit
TBA
In Simpsons episodes, he takes place of Lewis.
Ad blocker interference detected!
Wikia is a free-to-use site that makes money from advertising. We have a modified experience for viewers using ad blockers

Wikia is not accessible if you've made further modifications. Remove the custom ad blocker rule(s) and the page will load as expected.