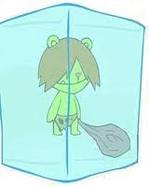 Cro-Marmot does not speak, and has very little distinguishable traits. Most of the time when he kills another character, it involves crushing others with ice block. Cro-Marmot is friends with nearly every character, and is rarely ever seen alone.
Because he is constantly encased in an ice block, it is difficult to distinguish his personality. He seems to enjoy ice cream, and has an occupation of selling it.
Starring Roles
Edit
TBA
Featuring Roles
Edit
Appearances
Edit
TBA
In Simpsons episodes, he takes place of Mr. Largo.
Ad blocker interference detected!
Wikia is a free-to-use site that makes money from advertising. We have a modified experience for viewers using ad blockers

Wikia is not accessible if you've made further modifications. Remove the custom ad blocker rule(s) and the page will load as expected.