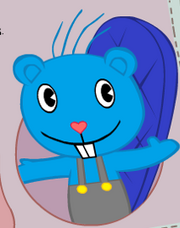 Chuck is a dark blue beaver with four stray hairs on his head and a pair of grey overalls.
He is a wacky fun loving person who gets into trouble, which Buck has to get him out of.
Chuck also appears to believe in ghost but it could just be his wild imagination.
Starring Roles
Edit
TBA
Featuring Roles
Edit
Appearances
Edit
TBA
In Simpsons episodes, he takes place of Terri.
Ad blocker interference detected!
Wikia is a free-to-use site that makes money from advertising. We have a modified experience for viewers using ad blockers

Wikia is not accessible if you've made further modifications. Remove the custom ad blocker rule(s) and the page will load as expected.