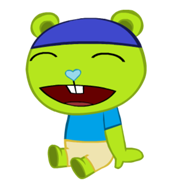 Britton is a bear, who disguised himself until now. Britton knows a lot about video games.
Britton only kills criminals intentionally. He killed Evil Flippy when he was split from Good Flippy, a psycho, and an evil bandit.
His family has very little appearences, so they don't have much injuries or deaths.
Britton can go hard on anyone who is evil. In fact, he's driven to capture and torture anybody who is evil.
Ad blocker interference detected!
Wikia is a free-to-use site that makes money from advertising. We have a modified experience for viewers using ad blockers

Wikia is not accessible if you've made further modifications. Remove the custom ad blocker rule(s) and the page will load as expected.