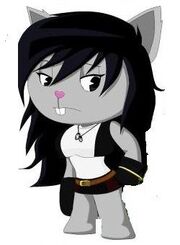 Ale is a gray wolf that was created by a deviantART member, AleEvilSoldier. She had a crush on, married, and even had children with the canon character, Flippy. Ale also possess an evil side, or "demon", by the name of Evil Ale, or as most people call her, "Alice".
Ad blocker interference detected!
Wikia is a free-to-use site that makes money from advertising. We have a modified experience for viewers using ad blockers

Wikia is not accessible if you've made further modifications. Remove the custom ad blocker rule(s) and the page will load as expected.